After recording three podcasts this week (two for Wine, Women and Words and a third where I was a guest for Guitar Goddess) this has pretty much been my attitude this weekend: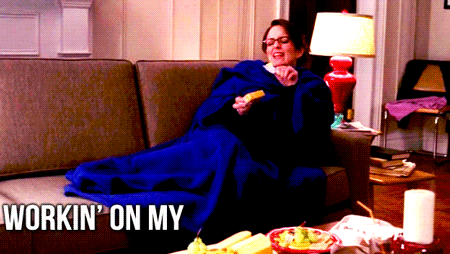 Last Week On The Blog:
So while I was busy with podcasts I had some wonderful authors stop by with guests posts on Women and Childbirth, Women in Medicine, and Women in the Performing Arts.
Be sure to check out their wonderful posts if you haven't already.
Currently Listening to:
I am studying Mary Shelley's Frankenstein at present (When I can tell you why I will!) so in addition to reading the book, I am taking the opportunity to listen. I have to say that while we had our downpour this week in LA it was truly magical to listen to Dan Steven narrate this classic.
Currently Reading:
After getting my hands on the My Dear Hamilton ARC I couldn't help it. I had to read it right away and let me tell you it is good. I won't give too much away because I want to save some things for the review that will be happening on April 14th but let me just say, if it is not on your TBR list, it needs to be.
Wine, Women and Words:
Michele and I have created a newsletter for the Podcast. So from now on if you want updates about what's happening in that world (including our awesome giveaways) please sign up here. I'll no longer be covering it on Creating Herstory.
New Books!
Because let's face it, I have a gorgeous bookcase that needs to be bursting with books.
As I mentioned on Instragram, I am particularly excited about The Magnificent Esme Wells. It has been on my wishlist and I am so glad that my fairy godparents at Harper Collins granted my wish.
Next Week On Creating Herstory:
I have quite the week planned for you! Fierce Femme March is going out with a bang. Author, Nicole Evelina will be sharing with us a four-part series on the history of Feminism. Then to close out this fabulous month The National Women's History Project will be stopping by to talk about why women's history is so important. I can't wait, it's going to be a wonderful week!
Quote of the Week: