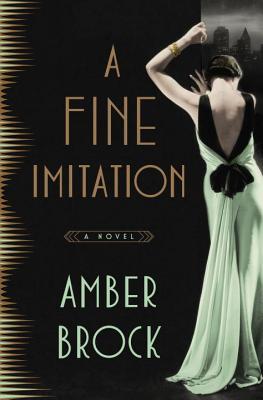 From Good Reads:  Set in the glamorous 1920s, A Fine Imitation is an intoxicating debut that sweeps readers into a privileged Manhattan socialite's restless life and the affair with a mysterious painter that upends her world, flashing back to her years at Vassar and the friendship that brought her to the brink of ruin.
Vera Bellington has beauty, pedigree, and a penthouse at The Angelus—the most coveted address on Park Avenue. But behind the sparkling social whirl, Vera is living a life of quiet desperation. Her days are an unbroken loop of empty, champagne-soaked socializing, while her nights are silent and cold, spent waiting alone in her cavernous apartment for a husband who seldom comes home.
Then Emil Hallan arrives at The Angelus to paint a mural above its glittering subterranean pool. The handsome French artist moves into the building, shrouds his work in secrecy, and piques Vera's curiosity, especially when the painter keeps dodging questions about his past. Is he the man he claims to be? Even as she finds herself increasingly drawn to Hallan's warmth and passion, Vera can't supress her suspicions. After all, she has plenty of secrets, too—and some of them involve art forgers like her bold, artistically talented former friend, Bea, who years ago, at Vassar, brought Vera to the brink of catastrophe and social exile.
When the dangerous mysteries of Emil's past are revealed, Vera faces an impossible choice—whether to cling to her familiar world of privilege and propriety or to risk her future with the enigmatic man who has taken her heart. A Fine Imitationexplores what happens when we realize that the life we've always led is not the life we want to have.
My Thoughts:
This book didn't work for me. It felt like the author was attempting to be like the Great Gatsby but fell short. Our main character, Vera, was not likable at all. She was shallow and whiney through most of the book. Which would be fine if there was some growth in the character but there wasn't. She was the same Vera from beginning to end except when she decided to grow a pair and make a decision for herself. I don't know if it is just her character or the way the romance was put together but I didn't feel like it was genuine. It felt more like Vera was just using Hallan as a way out.
Likewise, the central conflict that gets that really is supposed to be the heart of the story, feels very anti-climatic. And when I say anti-climatic, I mean, I had to go back and re-read the chapter because I felt like I missed something. There had to be more but there wasn't. The point is that I spent the whole book disliking the character and the choices she made which just soured the story for me.
I will say that she did a fantastic job setting the scene. I could picture the opulence of the 1920's very well.
I received this book from the Blogging for Books program in exchange for this review.