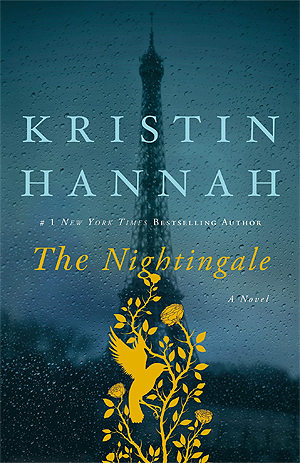 "It makes it sound as if I misplaced my loved ones; perhaps I left them where they didn't belong and then turned away, too confused to retrace my steps."
The relationship between sisters is complicated. Add in World War 2, dangerous secrets and you are surely in for a whirlwind adventure.
Isabelle and Vianne live two very different lives. Isabelle the fun loving young girl who excels at getting kicked out of boarding schools. Vianne enjoys a quiet life in the countryside with her husband and young daughter. The events of their shared past tore them apart, however, with the German occupation of France the Rossignol sisters find themselves thrown back together as they find their own ways during the war.
My thoughts:
What I loved about this book right off the bat is the lyrical use of language. Reading this book was like eating delicate cream puff.  The above mentioned quote was my favorite but overall throughout the book Kristin Hannah's descriptions took my breath away from her descriptions of a voice as "sweet and bitter as burned caramel" to "Inside the house echoed the voice of a man who wasn't there"
The story is a nail biting journey through both sister's experiences during the war. It is a heartbreaking story which is good. Popular culture has a tendency to want to romanticize the second world war and in doing so it softens the history. It makes the Nazis caricatures of the dangerous military power that they were.
Hannah does a fabulous job of pulling together various stories from history to weave together a gritty touching story of the affects of war in occupied France. Each sister finds themselves in impossible situations. Vianne is forced to sacrifice and make very hard decisions to protect herself and her daughter, especially with a Nazi soldier residing in her home. Isabella, focuses her passion towards the resistance, finding herself in the midst of the war. Running one of the most dangerous operations in all of Paris.
It's a fantastic historical fiction to escape the world for a few days.