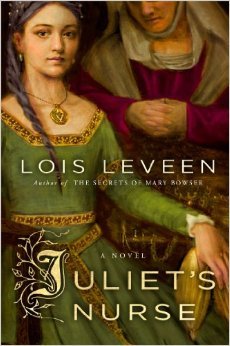 This story takes a whole new view of the famous Shakespeare play Romeo and Juliet. After the tragedy of loosing while giving birth, Nurse goes to the house of Cappelletto to become the wet nurse for their new born daughter Juliet. As Nurse, who has lost all of her children, becomes attached to her new charge. We are introduced to a number of familiar characters. She soon becomes engrossed in the lives of the Cappelletos leading up to the events of that famous play.
My thoughts:
For the record I am a huge Shakespeare fangirl. Besides regularly reading them, my father and I get together every month to watch one. With that being said, Romeo and Juliet is my least favorite play of all of the Shakespeare plays. I dragged my feet for a little bit but I ended up giving in. It was a unique enough premise that perhaps I would find a new appreciation of the play. However, I feel like the author missed out on a great opportunity to go deeper with the characters and with the story itself. It felt like this was just a prequel to the play but we could have gotten a better understanding of why and how the event of the play happened the way that they did.
I also think character development could have been better, half way through the book we jump from Juliet's childhood to her teen years. We suddenly see changes in characters that I think could have been explained better along with a change in dialogue which is just a bit off putting to have halfway through the story.
However, I do have to say that I like Lois Leveen's writing style and plan on picking up another one of her books.